We continue to follow the trend of thinking on the use (and "hardening") of education facilities as community storm shelters.   As central, community assets, such use makes sense.
Workgroups organized under the ICC Building Code Action Committee continue to refine their thinking ahead of the Richmond meetings later this month; as can be seen in the document linked below*:
ICC BCAC Redline Status of Structural WG Group B
There are other concepts running through this committee's agenda that should interest the education facilities industry:
Structural wood and windforce-resistance systems

Roofing aggregate

Gutters, coping and ice shields

Glass handrails, balusters, infill panels and guards
Technical committees move incrementally because of the network of safety concepts that appear in other codes and standards.   The larger issue for the education facilities industry is the degree to which it wants to be involved in the decision-making about whether education facilities that have the capacity to be community storm shelters, the standard to which they should be designed, and who should pay for it.
We are happy to continue the discussion any day at 11 AM.   Case histories and war stories are always welcomed.   Use the login credentials at the top right of our home page.

Issue: [Various]
Category: Architectural, Facility Asset Management, Space Planning
Colleagues: Mike Anthony, Jack Janveja, Richard Robben
* Direct link to ICC Building Code Action Committee

---
Posted September 22, 2018
The hurricanes in the Carolinas these past few days provide a backdrop, and some perspective, on proposals for the use of education facilities — one of the largest publicly-owned assets — as storm shelters.   Obviously, probable disasters vary according to geography — i.e. earthquake, flooding, high winds.  Even when new prescriptive requirements, or performance guidelines, appear in the enforceable part of the national standard, state adaptations are not only possible but probable.
We have covered the use of education facilities in previous International Building Code (IBC) posts and also in our advocacy in NFPA 1600 which sets the standards of care for disaster management and business continuity.   The governing principle in the use of any facility as a storm shelter — covered in Section 423 of the IBC –is whether or not it has been built, and maintained, with sufficient structural integrity (Follow the tread on PDF Page 737).   As we have seen in proposals now under consideration by the American Society of Civil Engineers, structural integrity includes preservation of structural integrity after flood damage.

International Code Council (ICC) staff is now working with volunteer technical committee members to prepare public comments for the Public Comment Hearings next month.  The Group A Codes have hundreds of proposals to act upon so it is wise for ICC staff prepare these comments in order for them to be fairly balloted by volunteer technical committee members at the Group A Code Hearings next month.  Group A technical committee have an ambitious agenda.
ICC Group A Public Comment Monograph | 1613 pages
It is difficult to follow idea flow through the Group A I-Codes without some help.  Accordingly we will walk through the monograph for all Group A I-Codes on October 4th and October 11th, 11 AM Eastern time. (Use the login credentials at the top right of our home page.)  The second stage of the ICC code development process differs from the first stage but there are workarounds to make the voice of the education facilities industry heard.   Use the login credentials at the top right of our home page.

---
Posted July 5, 2018
IBC Group E Concepts | Education Facility Storm Shelters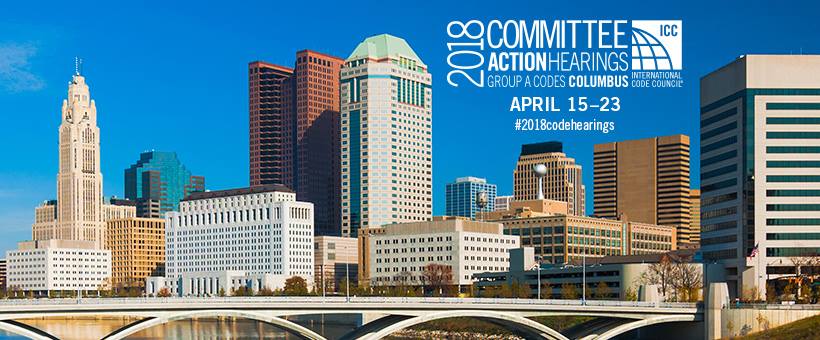 A number of candidate code changes regarding the use of education facilities for storm shelters were debated during April's International Code Council Spring Committee Action Hearings in Columbus, Ohio.  These have been identified in our previous post and are described partially* here  for reference:
Proposal G13-18 is the lead proposal for a group of related proposals to require storm shelter construction.  (PDF Page 633 of the Complete Monograph):
"Storm shelters shall be provided for Group E occupancies where required by Section 423.4"
Proposal G59-18 is related proposal in Section 423 Storm Shelters.  (PDF Page 737 of the Complete Monograph):
"Where designated storm shelters are constructed as a room or space within a host building which will normally be occupied for other purposes, the requirements of the code for the occupancy of the building, or the individual rooms or spaces thereof, shall apply unless otherwise required by ICC 500.
Both proposals claim no cost impact.  The intent to clarify and coordinate concepts within the document may actually reduce cost (by reducing confusion with education facility planners in high-risk parts of the United States) and thereby contribute to the safety agenda of Standards Michigan.   The testimony, pro-and-con, during yesterday's hearings were more nuanced, however.
Comments are due July 16th.  Additionally, public comment is possible at the Fall Committee Action Hearings.   The results of the Group A Hearings will be revisited during the Group A Public Comment Hearings, October 24-31, 2018 in Richmond Virginia.  See: Complete 2018 Group A Schedule.

We keep the entire ICC suite on the standing agenda of our weekly Open Door Teleconference — every Wednesday, 11 AM Eastern Time.  Click here to log in.   We have also set aside Thursday, July 12th, 11:00 AM online Markup Session to collaborate with others in the education facilities industry.

Issue: [Various]
Category: Architectural, Facility Asset Management, Space Planning
Colleagues: Mike Anthony, Jack Janveja, Richard Robben
*Most consensus documents developed for incorporation by reference into public safety law are highly networked within themselves — i.e. contain internal references that require understanding of the context in several places in the text.  In other words, ideas from several positions in the text must be understood in their entirety. 
LEARN MORE:
Ozarks schools continue building tornado shelters despite fewer grants
Last posted April 18, 2018