We collaborate closely with the IEEE Education & Healthcare Facilities Committee (IEEE E&H) to negotiate the standard of care for power security on the #SmartCampus  since many campus power systems are larger than publicly regulated utilities.  Even when they are smaller, the guidance in building the premise wiring system — whether the premise is within a building, outside the building (in which the entire geography of the campus footprint is the premise), is inspired by IEEE Standards Association administrated technical committees.

Several proposals recommending improvements to the 2017 National Electrical Safety Code (NESC) were submitted to the IEEE subcommittees drafting the 2022 revision of the NESC.   Some of the proposals deal with coordination with the National Electrical Code — which is now in its 2023 revision cycle.  Keep in mind that that NESC is revised every 5 years at the moment; the NEC is revised every 3 years.
The original University of Michigan standards advocacy enterprise has been active in writing the NESC since the 2012 edition and set up a workspace for use by electrical professionals in the education industry.   We will be using this workspace as the 2022 NESC continues along its developmental path:
The revision schedule — also revised in response to the circumstances of the pandemic — is linked below::
NESC 2023 Edition Revision Schedule*
While the general public consultation period begins in January 2022; we follow the development more closely than the general public.
The NESC is a standing item on the 4-times monthly teleconferences of the IEEE Education & Healthcare Facilities committee.  The next online meeting is shown on the top menu of the IEEE E&H website:
We have a copy of the first draft of the 2023 NESC and welcome anyone to join us for an online examination during any of Power & ICT teleconferences.  See our CALENDAR for the next online meeting.
Business unit leaders, facility managers and electrical engineers working in the education facilities industry may be interested in the campus power system reliability database.   Forced outages on large research campuses, for example, can have enterprise interruption cost of $100,000 to $1,000,000 per minute.    The campus power system forced outage database discriminates between forced outages attributed to public utility interruptions and forced outages attributed to the university-owned power system.   The E&H committee will convey some of the discipline applied by the IEEE 1366 technical committee into its study of campus power systems and, ultimately, setting a benchmark for the standard of care for large university power systems.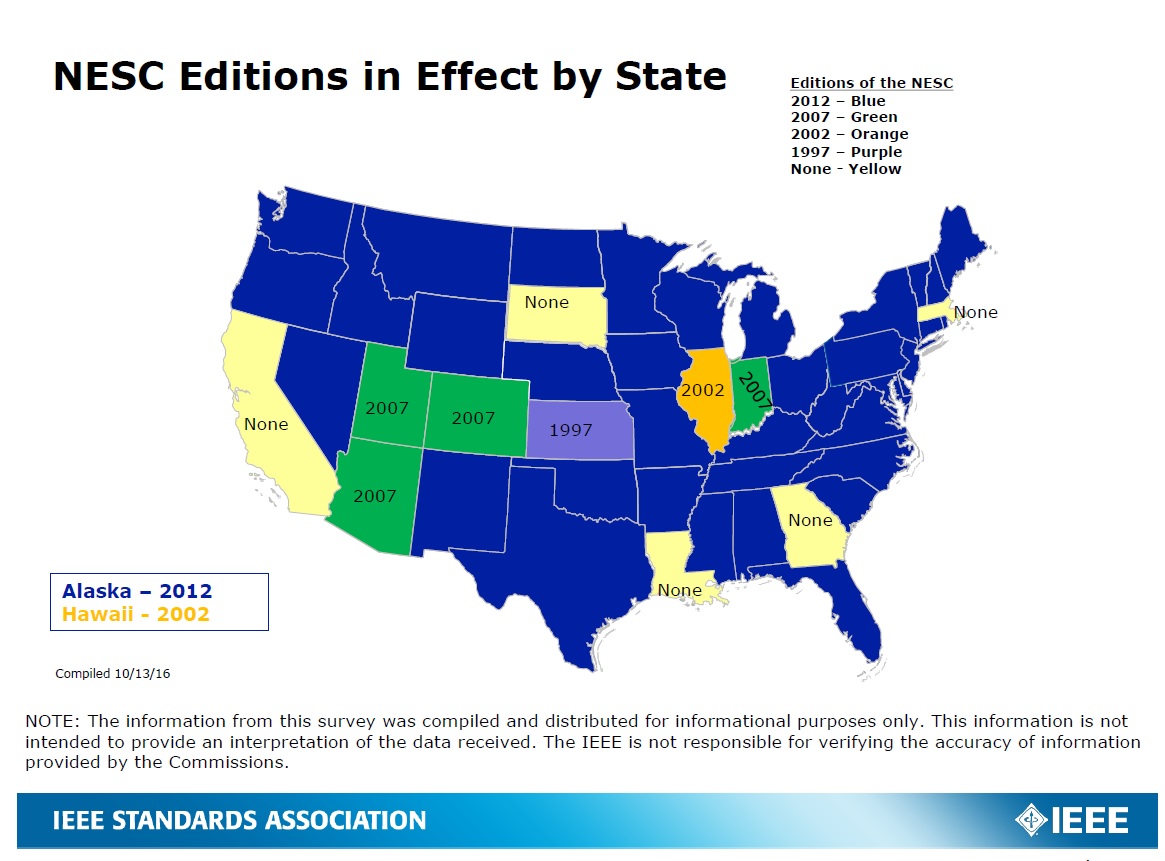 * It appear that IEEE has changed the nominal date of the next edition; likely owed to pandemic-related slowdown typical for most standards developing organizations.
Issue: [16-67]
Contact: Mike Anthony, Robert G. Arno, Lorne Clark, Nehad El-Sharif, Jim Harvey, Kane Howard, Joe Weber, Guiseppe Parise, Jim Murphy
Category: Electrical, Energy Conservation & Management, Occupational Safety
ARCHIVE: University of Michigan Advocacy in the NESC 2007 – 2017
---
LEARN MORE:
P1366 – Guide for Electric Power Distribution Reliability Indices 
University Design Guidelines that reference the National Electrical Safety Code
The #NESC is used in many aspect of our lives. It applies to the design, construction, operation, and maintenance of electric supply and communication utilities. #FactFriday #NESCmonth pic.twitter.com/mpnhe3Tish

— IEEE Standards Assoc (@IEEESA) May 18, 2018