We follow the development of public policy documents produced by International Organization for Standardization technical committee 292 (ISO TC/292) because the concepts emerging from these committees because,
a) they find their way into the assumed vocabulary of government security management regulations
b) as an global industry, the education industry should contribute to a common vocabulary for resilience concepts as a matter of collegiality and respect for global collaborators.
Admittedly, the time frame in which the blue sky conceptions of global committees become tangible to campus communities usually spans well beyond the tenure of most college and university presidents; much less the business leaders in the education industry who would be on the front line of assuring campus security.
From what we gather, the work products of TC/292 committees seem to tip-toe around the products of other ISO committees.   The Business Plan — linked below — is a starting point for understanding why an international industry, with scholars collaborating with one another from all points of the globe, needs to understand where this standard is headed:
STRATEGIC BUSINESS PLAN: ISO/TC 292 Security and resilience
From the TC/292 Mission Statement:
The mission for ISO/TC 292 Security and resilience is to produce high quality standards to support nations, societies, industry, organisations and people in general. The purpose of these standards is to enhance and sustain the state of being free from danger or threat and to feel safe, stable, and free from fear or anxiety.
There are enough "trigger words" in this statement for the US education industry to pay attention.   Based upon our experience the substance of standard will begin showing up in bibliographies of academic research papers first; then showing up in international studies course curricula, and ultimately in consensus documents setting the standard of care for strategies and management of security "systems".   We hazard a guess that it will take 6 to 12 years for this document to begin affecting security management decisions on college and university campuses; primarily in ANSI accredited safety standards — soon enough for a deep cycle industry.

The American National Standards Institute is the US Member Body to the ISO.   The Swedish Standards Institute (SIS) is the global Secretariat.  Up until recently ASIS International is the Administrator of ANSI's US Technical Advisory Group (US TAG).   According to ANSI procedure, any stakeholder within the United States must collaborate with  US TAG.  Anyone outside the United States must collaborate with their national member body.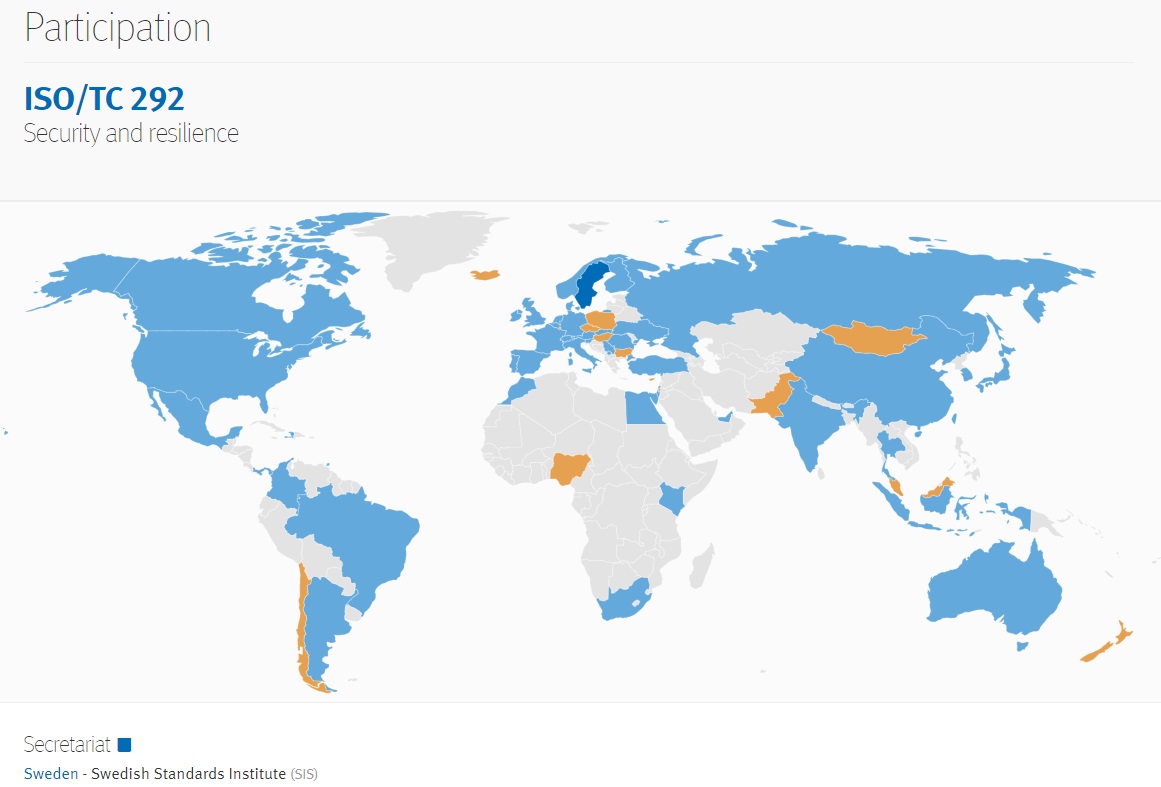 ASIS International has notified ANSI that it wishes to relinquish its role as the US TAG Administrator for this standard.   Because this standard presents an opportunity for academic units to participate in global standards development we are passing the information along.  The cost to an academic unit is relatively small with compared with the worldview that it offers students.   Branding and marketing units in the education industry can secure their claim to being a "global" university by assuming leadership for the United States.
Organizations interested in serving as the U.S. TAG Administrator or participating on a U.S. TAG should contact ANSI's ISO Team (isot@ansi.org).   We also walk through the status of all international standards relevant to the US education once per month.  See our CALENDAR for the date of the next online teleconference; open to everyone.

Issue: [16-128]
Category: Public Safety, Administration & Management, Public Policy, Public Safety, Risk Management, International
Contact: Mike Anthony, Christine Fischer
Source: ANSI Standards Action | Page 34
---
LEARN MORE: