Recreational sports, athletic competition, and the facilities that support it, are one of the most visible activities in any school, college or university in any nation.   They have the same ambition for safety and sustainability at the same scale as the academic and healthcare enterprises.   According to IBISWorld Market Research, Sports Stadium Construction was a $6.1 billion market in 2014, Athletic & Sporting Goods Manufacturing was a $9.2 billion market in 2015, with participation in sports increasing 19.3 percent by 2019 — much of that originating in school, college and university sports and recreation programs.
Accordingly, we follow standards action in the sports, recreational facilities and equipment standards suites developed by the National Collegiate Athletic Association, the American Society of Testing Materials, and the National Operating Committee on Standards for Athletic Equipment (NOCSAE).   There are about twenty core accredited consensus document developers that set the standard of care design, construction operation and maintenance of building occupancies  of this nature.
Sport, being a universal and unifying activity for the education sector in all nations, we also follow developments in the International Standards Organization's  ISO/TC 83: Sports and other recreational facilities and equipment; a standard suite with the German Deutsches Institut für Normung (DIN) as the global Secretariat and the American National Standards Institute as the US Technical Advisory Group. The full sweep of ANSI's participation in consensus documents developed by the ISO is described in the link below: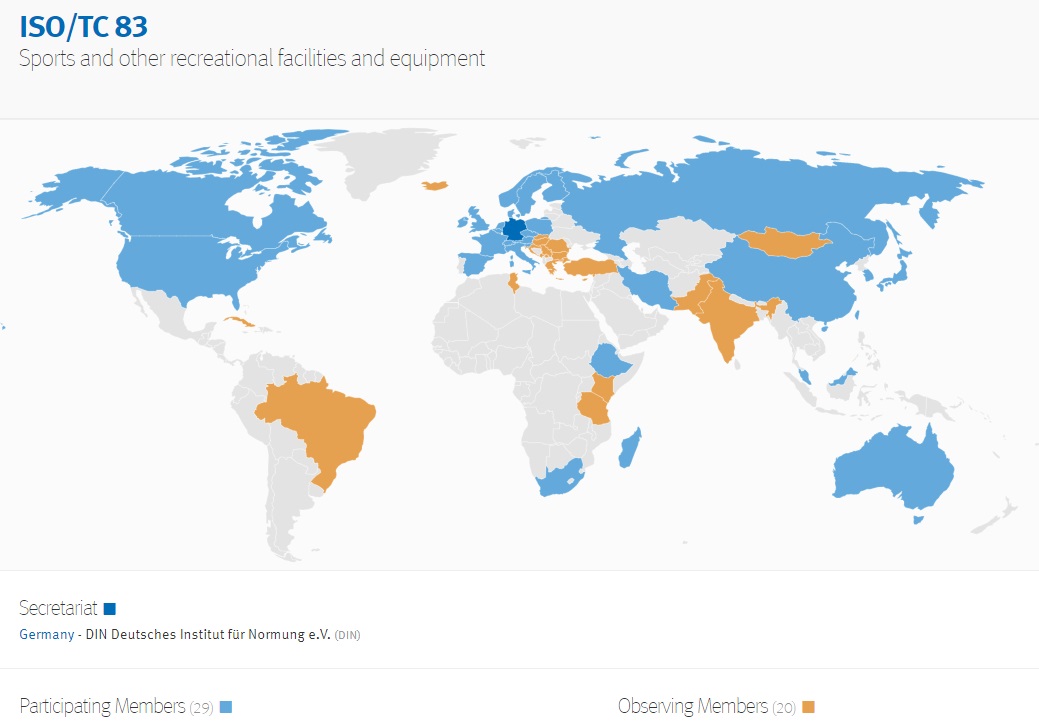 From the ISO TC/83 prospectus:
BUSINESS PLAN | ISO/TC 83 Sports and recreational equipment | EXECUTIVE SUMMARY
At the moment ISO TC/83 is focused on equipment — i.e. certifiable safety products — not building enclosures, occupant safety and related technologies for participation and enjoyment.  Colleges and universities who want to offer their sports management or international studies students a front row seat on the technology and management of sport may want to participate in  ISO/TC/83 business.  To start, organizations within the United States may communicate directly with ASTM International, West Conshohocken, PA 19428-2959, Phone: (610) 832-9804.   Contact: Joe Khoury (jkoury@astm.org).
Standards Michigan also devotes an hour every month to review public commenting opportunities on all international standards.  See our CALENDAR for the next online teleconference on Athletic & Recreation standards.

Issue: [19-46]
Category: Athletics and Recreation, International,
Contact: Mike Anthony, Jack Janveja, Christine Fischer
---
LEARN MORE: