Fire safety informs nearly every aspect of human endeavor and is a sensitive topic in the emergent #SmartCampus.   Safety leadership in cybersecurity, biohazards, flooding and power and telecommunication outages often begins with the person on campus whose education and experience originated in the fire safety world.
The development of the highest level fire safety consensus product in the world is led by the British Standards Institute, under the administration of the International Standardization Organization, with ASTM International as the US Technical Advisory Group Administrator.  The business plan and the map of global participants is linked below:
BUSINESS PLAN ISO/TC 92 Fire safety EXECUTIVE SUMMARY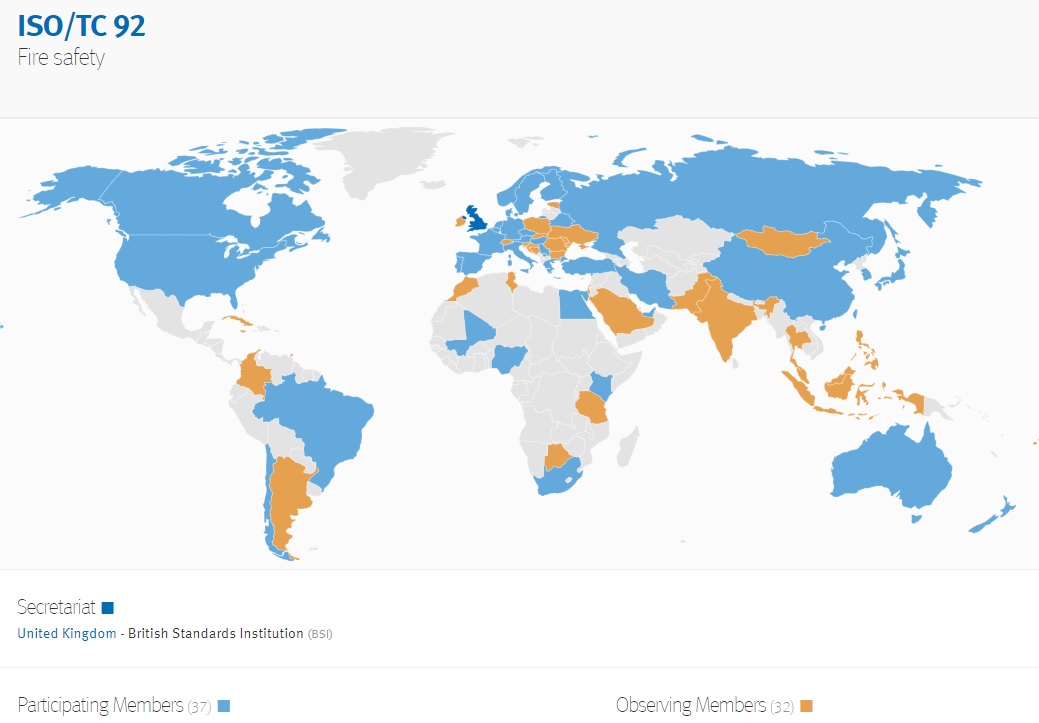 The standards developed by TC 92 are intended to save lives, reduce fire losses, reduce technical barriers to trade, provide for international harmonization of tests and methods and bring substantial cost savings in design. ISO/TC 92 standards are expected to be of special value to developing countries, which are less likely to have national standards.  As with all ISO standards, the TC 92 consensus product is suitable for use in prescriptive regulations and provide for a proven route to increased fire safety.
The absence of one of the oldest and most storied consensus standards developers for fire safety in the United States is noteworthy.
We do not advocate in this standard at the moment but we encourage subject matter experts in business and academic units in the US education industry to communicate directly with either of the US TAG administrators or allocate resources to become an Technical Advisory Committee member for the American National Standards Institute.  CLICK HERE for information about how to do that.
We shout the loudest to academic units — engineering and business units, for example — who want to add dimension to their claims of leadership and international sensibilities.  There is likely no better way to provide students a front row seat on how technical consensus products are developed than at least participating in an committee on behalf of their national standardization body.   The emergent #SmartCampus necessarily involves technologies that are developed by multi-national corporations that are innovating at a ferocious pace to compete in developed and developing technology markets.   A reminder to the leaders of the education industry who are fond of claiming "leadership".   Usually, being a "leader" means walking alone — i.e. breaking form from your colleagues and peers.
To get started we encourage our colleagues in the United States to communicate directly with ANSI's ISO Team and/or the ASTM Contact Tom O'Toole, 100 Barr Harbor Drive, West Conshohocken, PA 19428-2959 Phone: (610) 832-9739, Email: totoole@astm.org
Our colleagues at other colleges and universities should start with their own national standards body; identified on the participation map above.  We also walk through international standards relevant to our lower #TotalCostofOwnership agenda action every month.  See our CALENDAR for the next online meeting;  open to everyone.

Issue: [19-104]
Category: Fire Safety, Fire Protection, International
Contact: Mike Anthony, Joe DeRosier Christine Fischer, Jack Janveja, Richard Robben
---
LEARN MORE:
*See "Education Enterprise" ISO Focus, January 2015, pp 33-37