"The best men are molded out of faults"
— William Shakespeare
The American National Standards Institute  is the Global Secretariat for ISO Technical Committee 260 (ISO/TC 260); organized to develop policy templates for standardization solutions that improve management of the workforce in any nation; in any sector or industry.   These human resource management standards offer broad, evidence-based guidance to individuals with people management responsibilities, whether formally or informally assigned, in organizations for the benefit of both internal and external stakeholders.
Gleaned from inputs from human resource experts globally, these products are designed to provide guidance on key HR functions in support of its workforce and its management, and sustainable organizational performance.   TC/260  is focused on the following tasks:
• Ensuring wide market relevance of its HRM standards.
• Facilitating international business.
• Providing guidance on professional standards of practice.
• Facilitating measurement, comparability and consistency of HR practice with the aim of transparent benchmarking.
• Improving internal processes.
• Enabling organizations to better achieve optimal organizational outcomes with improved management of human capital
The business plan is linked below:
STRATEGIC BUSINESS PLAN ISO/TC 260: Human Resource Management 2018/19 (3rd edition)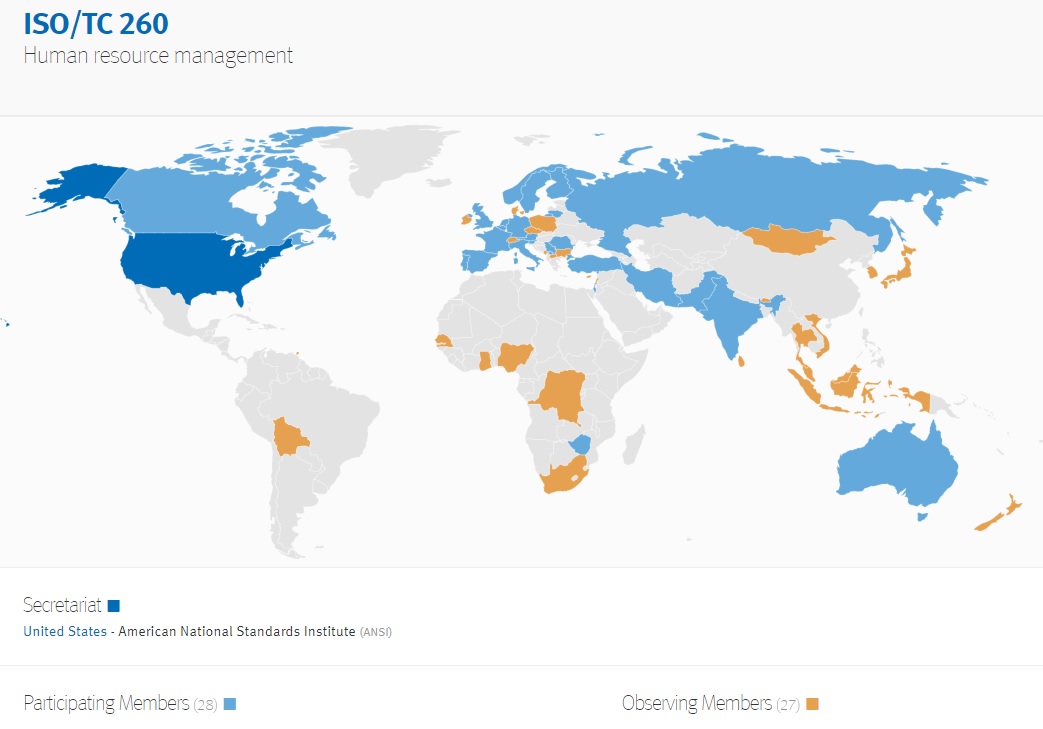 The original University of Michigan user-interest advocacy enterprise was participating member in this project* but that engagement was interrupted suddenly in October 2016 (See ABOUT).  We have since picked up where we left off with the same people collaborating with Standards Michigan.  ANSI remains the global Secretariat.
We maintain this project on the standing agenda of both our Global and our Human Resource colloquia.  See our CALENDAR for the next online meeting; open to everyone.

Issues: [14-99] and [15-52]
Category: Administration & Management
Colleagues: Mike Anthony, Christine Fischer, Lee S. Webster, Richard Robben
ANSI Contacts: Michelle Deane (mdeane@ansi.org)
US TAG Contacts: Lorelei Carobolante, Jim Lewis
*We left off just as the ISO/TS 30411:2018, Human resource management-Quality of hire metric (QoH) standard was rolling out.   The QoH was, and still is a performance metric for talent acquisition teams, critical for determining the effectiveness of the recruitment process and has a consequential impact on an organization's performance.  The QoH structure is intended to be scalable to the needs of any organization regardless of size, industry or sector and is relevant to people with an interest in workforce planning, organizational design and development, talent management succession planning, recruitment, and human capital reporting.  Read more about ISO/TS 30411:2018 on ISO's news site, and access it on the ANSI Web Store.
---
More
Materiality of Human Capital Metrics | Lee S. Webster
ISO Focus January 2015 Anthony-Robben – Education Enterprise pp 33-37
ISO Guidelines Help Measure Employees' Impact on Company Performance